Apps and data today exist in multiple clouds in a hybrid reality.
Organizations are increasingly on a path to evolve their edge-to-hybrid cloud IT estate. Driving this trend are new business models and the effort to capture the agility, operational efficiency, and innovation presented by digital transformation.
IDC estimates the economic value of digital transformation will represent almost $19 trillion
by Kevin Delaney April 12, 2021
Learn why digital transformation requires a hybrid cloud strategy and how you can do it in just four steps with HPE solutions.
Organizations are increasingly on a path to evolve their edge-to-hybrid cloud IT estate. Driving this trend are new business models and the effort to capture the agility, operational efficiency, and innovation presented by digital transformation.
IDC estimates the economic value of digital transformation will represent almost $19 trillion, an amount equivalent to 20% of global GDP. As a result, this has already driven estimated worldwide spending of $1 trillion in 2020 as organizations increasingly pursue transformation initiatives.
In a digitally transformed business, applications and data live everywhere, and speed is enabled everywhere—fueling innovation, product development, and quality:
Apps and data exist in multiple clouds in a hybrid reality—including data centers and colocation facilities
Data explosion at the edge—where 75%4 of data is created—is moving us from data centers to many centers of data
Yet digital transformation remains elusive outside of the public cloud. Today 70% of apps are still outside the public cloud, dealing with reality of data gravity, security, performance, and compliance. It's a situation that demands a hybrid cloud approach.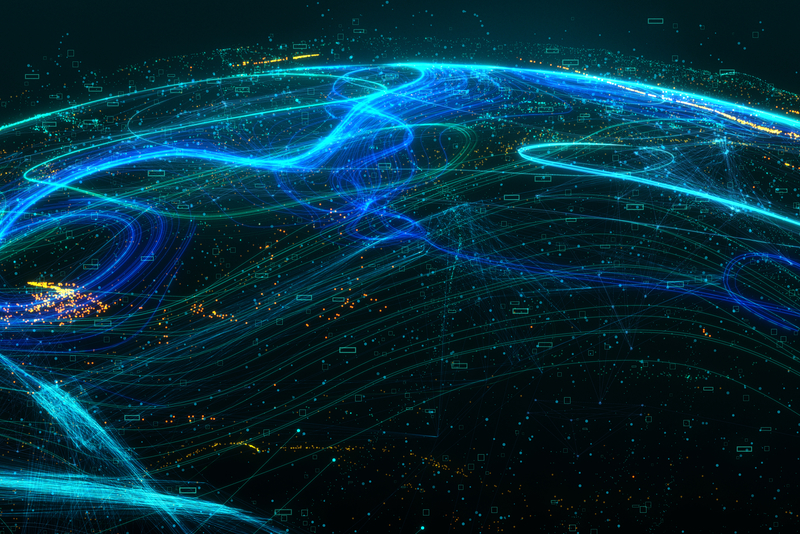 HPE brings the cloud experience to apps & data everywhere
You can advance your hybrid cloud strategy in just four steps with a robust HPE solutions portfolio:
1. Define and move to the right mix of clouds
Finding the right mix of clouds for your enterprise requires experience and insight into how your business operates. The experts at HPE Pointnext Services can help you define and move to the right mix of clouds by following an approach that is open to any cloud. HPE Pointnext Services cloud and technology experts can assess your existing IT investment strategy and identify trapped capital, as well as help you assess your people and teams to identify critical gaps in your cloud journey. Finally, HPE Pointnext Services experts can determine the right cloud strategy to help you move to your right mix of clouds, optimized for every workload.
2. Create modern, right-fit, agile platforms for innovation
To reach the modern cloud experience—and achieve the speed and agility you want—HPE delivers a portfolio of software-defined, rack-optimized HPE ProLiant and composable infrastructure HPE Synergy platforms that support HPE IP and leading partner cloud solutions, such as VMware Cloud Foundation and Microsoft Azure Stack HCI.
HPE solutions for VMware Cloud Foundation
From mid-market to large enterprise customers, from traditional IT to a virtualized data center, our goal is to help you move quickly toward a digitally transformed, software-defined data center supporting hybrid infrastructure. HPE and VMware work together to provide a simple experience for hybrid cloud so you can create and deliver new value instantly and continuously to achieve:
Faster innovation enabling faster time to market
Consistent operations supporting simplicity
Reduced cost with a consistent hybrid cloud environment
Together, HPE and VMware have revolutionized the data center by building a single, consistent hybrid cloud experience that delivers greater agility and simplicity with:
Automation: Build your cloud 5X faster with HPE automation tools for faster time-to-market
Validated solution stacks: End-to-end solution stack fully tested and validated reduce complexity
Integrated management: Unique VMware management integration and automated firmware lifecycle integration via vLCM simplify IT, deliver more agility
Services: HPE Pointnext services accelerate time to deployment
HPE Solutions for Microsoft Azure Stack HCI
Get the convenience of a hyperconverged infrastructure (HCI) to run your private and hybrid cloud on a workload optimized platform—HPE ProLiant. This intelligent compute foundation delivers unmatched workload optimization, security, and automation, all available as-a-service. Provides an ideal foundation with your Windows software-defined HCI where you benefit from:
Easier adoption of new common workloads with this simple yet high-performing infrastructure
Easier infrastructure planning with multiple validated server configurations from Intel and AMD
Deployment and configuration guidance through technical white papers and other published documentation and training
Speed and agility delivered through HPE GreenLake as-a-service, offload the burden of operating IT, and pay only for the resources you consume
Build your cloud with unmatched security and ease of management
HPE systems provide an enhanced, holistic, 360-degree view to security that begins in the manufacturing supply chain and concludes with safeguarded, end-of-life decommissioning. Powered by recently announced Gen10+ servers, HPE ProLiant and HPE Synergy systems integrate the silicon root of trust technology, that offer protection, detection, and recovery from attacks with industry-leading encryption and firmware protection.
The HPE OneView management solution transforms compute, storage, and networking into software-defined infrastructure. HPE OneView offers a template-driven approach for deploying, provisioning, updating, and integrating compute, storage, and network infrastructure. Using HPE OneView software templates, a single line of code can fully describe and compose all the physical resources required for an application, a virtual host, or a container infrastructure.
3. Consume everything as a service—everywhere
HPE GreenLake brings the cloud experience—self-serve, pay-per-use, scale up and down, and managed for you by HPE and our partners—to apps and data everywhere, in edges, colocations, and data centers. It enables you to free up capital, boost operational and financial flexibility, and free up talent to accelerate what's next for you. With HPE GreenLake, you can get cloud services that are production-ready, elastic, for any scale—with a simple experience delivered to your locations in as little as 14 days.
4. Unify your hybrid cloud estate
HPE GreenLake Central is an intuitive, self-service portal offering rich insights and controls across clouds for easy, instant actions. It provides a consistent cloud experience for all apps and data, through an online operations console that runs, manages, and enhances the entire hybrid cloud estate. Meters actual cloud usage with transparency of cloud costs and usage—cost KPIs integrated into a single self-serve dashboard. Optimizes resources, predicts capacity needs, and improves cloud spend with the HPE Consumption Analytics Portal recommendation engine. Provides sophisticated governance and continuous monitoring of over 1,500 compliance controls for all major regulatory frameworks to spot and fix issues quickly.
Why partner with HPE?
HPE is ahead of the pack in delivering a consistent hybrid cloud experience with:
Deep expertise across VMware Cloud Foundation, Microsoft Azure, Amazon Web Services, and Google™ Cloud Platform
Unbiased expertise and IP to accelerate the right mix of cloud for your enterprise
Proven cloud partner with over 1,000 cloud transformation projects globally
Proven IT-as-a-service platform with HPE GreenLake
Deepak Belani
Hewlett Packard Enterprise